Anlin Windows & Doors, was founded in 1990 by Tom Vidmar and his two sons Eric and Greg. With valuable manufacturing experience working for Ford Motor Company, Tom and his sons set out to manufacture the most energy efficient vinyl replacement windows and doors in the industry. These products would not only provide lifetime savings to Homeowners, but would bring comfort, safety and beauty to the Home in order to strengthen the Family experience. Tom believed Anlin's success flowed from a simple philosophy: Team-Anlin is a Family, and its Dealers and Homeowners are extensions of that Family. While simple in theory, this philosophy is the foundation from which all things are developed.
Unfortunately, after a 10 year battle with cancer, Tom (known as Grandpa to the employees) passed away in August of 2014. Several years prior to his passing, the Vidmar Family hired John Maloney as President, to continue Tom's vision, preserve the Family legacy and lead the company into the future.
Today, Anlin employs over 400 team members and is considered the benchmark from which all other window products are measured. Anlin Windows & Doors is recognized as California's Best Brand and Western United States top vinyl replacement windows and doors. Anlin Windows & Doors has also been ranked as a Top 100 Manufacturer by Window & Door Magazine for over 20 years. Anlin's focus on Dealers and commitment to Homeowner satisfaction in its products and service is the company's hallmarks, earning Anlin 5-star ratings on review and opinion sites such as YELP and others. Anlin Windows and Doors has become the "Star of Energy Savings".
If you would like to give your Home the 5-Star Treatment, please browse through our products and let us know how we can help.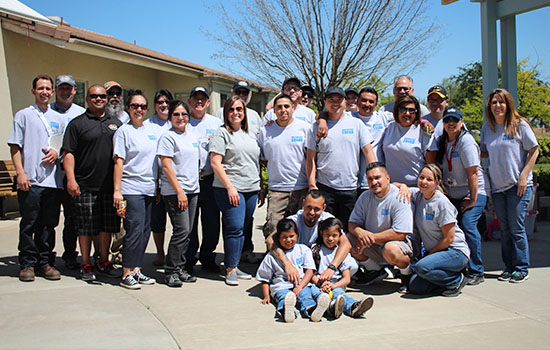 Giving back to the community has been part of Anlin's fiber from the beginning. It came naturally to Anlin founder, Tom Vidmar, and it comes naturally to us still. We have a completely employee-driven community action team called the "Volunteer Squad." In association with great organizations like Ronald McDonald House, Make A Wish Foundation, Habitat for Humanity ReStore, and Community Food Bank, Anlin's Volunteer Squad mobilizes to meet needs, lift spirits and improve the lives of our neighbors.
As a company, Anlin has taken the lead or a partnership role in many community outreach efforts. Especially dear to our hearts is our relationship with Easterseals of Central California. Each year we sponsor the Tom Vidmar Memorial Golf Tournament with proceeds supporting the work of Easterseals. We're so pleased that over the past 16 years – with the help of Anlin's wonderful friends, vendors and customers – the tournament has provided Easterseals more than $570,000 to help with the life-changing services they provide. We also joined Easterseals' efforts to replace old windows on 14 cabins and other buildings at Camp Harmon in the Santa Cruz Mountains of California. The site offers a true mountaintop camping experience to people with disabilities, and we're excited to be a part of that magic.
Sustainability That Works for Everyone
Anlin windows and doors are the sustainable choice for your home environment. Here are some highlights:
Anlin's industry-leading energy efficiency means you use less energy to heat and cool your home. And when you use less energy, you're helping to lower greenhouse gas emissions from power plants. So you save money while you reduce your home's carbon footprint.
Anlin reclaims and reuses almost all by-products in our manufacturing process, including glass, vinyl and shipping materials. Each year, Anlin recycles more than 600,000 pounds of vinyl and 12,000 pounds of paper!
Your Anlin windows and doors are built to last. Made with durable materials that stand up to even extreme environments, they'll stay on your home longer and out of the landfill.